Keep IRAPs Out of Constitution
By admin In Blog, News On July 8, 2019
---
TO: ALL LIUNA VICE PRESIDENTS, REGIONAL MANAGERS, DISTRICT COUNCILS, LOCAL UNIONS, AND AFFILIATED TRAINING & APPRENTICESHIP FUNDS IN THE UNITED STATES
FROM: General President O'Sullivan
DATE: July 8, 2019
RE: Urgent Update – Website and Documents to Act on Industry Recognized Apprenticeship Programs (IRAPs)
As announced during the LIUNA Apprenticeship Townhall Conference Call on Tuesday, July 2, attached below are materials for LIUNA members and a message guidance document for your use. I encourage you and all LIUNA members to use these materials and submit comments to the Department of Labor from now through August 26.
To send a message now, go to one of the following websites:
• LIUNARepsComments.org (For LIUNA leaders and reps to send comments)
• LIUNAMemberComments.org (For LIUNA members to send comments)
• LIUNATrainingComments.org (For apprentices and trainees to send comments)
• LIUNAContractorComments.org (For contractors to send comments)
Also, to assist in your efforts to encourage members to send a message to the Department of Labor, we will send the following:
• Next week, postcards for members with a call to action and instructions will be mailed to Local Unions to be distributed at union meetings and jobsites.
• An email explaining the importance of this issue with instructions on how to act will be sent to every LIUNA construction member.
• A letter will also be mailed to every LIUNA member at their homes outlining the issue with instructions on how to send a message.
Brothers and sisters, we must stand shoulder to shoulder, united in this fight. We will need each and every one of you working together to ensure that the Administration hears our concerns and protects LIUNA members' livelihoods.
May all of you Feel the Power…
May all of you Be the Power…
And, may all of you Use the Power.
ATTACHMENTS:
• Message Guidance
• Flyer
• Sample Social Media and Graphics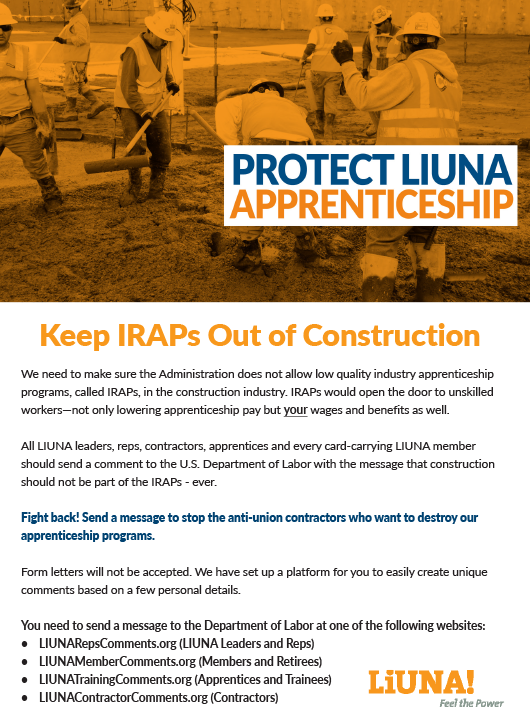 ---